So the weekend has passed and let me just say, the ice cream was a HUGE hit! Since the last post, I finally figured out the flavors- I chose a chocolate marshmallow ice cream and a vanilla frozen yogurt with homemade mixed berry syrup in it. The picture I have for you above, is the chocolate marshmallow with extra marshmallows and homemade chocolate syrup on top for an extra sugar-rush!
Since I didn't use the recipes that came with the ice cream maker book, I did some improvising on the ones I found online and the frozen yogurt with the mixed berry syrup ended up over-churning by the time I got the mixed berry syrup done so it didn't turn out so well. Oh well, it happens sometimes! I forgot to take into account that the yogurt would need more of a gentle touch so it might not have needed as much time in the ice cream maker as the actual ice cream did. That's the way things go and everyone loved the chocolate marshmallow flavor anyway which was soo easy to make so I'm excited to share the recipe with you!
(Link to this recipe is actually a Rocky Road Ice Cream Recipe, but I adapted it for me and just made a chocolate ice cream with mini marshmallows. It would be a great base for any flavor of ice cream for sure)
I actually doubled the recipe to fill my ice cream maker, but you'd have to base the number of recipes you need on how big your ice cream maker is. The recipe below is mine, so it's doubled. If it won't fit in your ice cream maker, just half each of the ingredients and it'll be the original recipe.
2- 14 oz non-fat sweetened, condensed milk
1 cup cocoa
4 cups half and half
2 cups mini marshmallows (I just used a whole bag though)
2 cups light cream
2 Tb. vanilla
1 cup chopped pecans (optional- I didn't add them, but you can)
Mix ingredients, except for marshmallows and optional pecans in a bowl and whisk until well combined. Add to ice cream maker and follow the directions for your ice cream maker for timing. I did mine for about 40 minutes, but my ice cream maker is very old so it varies depending on machine. Once it's done, I scoop it out of the ice cream maker and into another container and mix in handfuls of marshmallows and optional pecans as I scoop the yummy-ness into the container. I froze it for about 2 days before we ate it and everyone raved over it! Definitely a keeper recipe!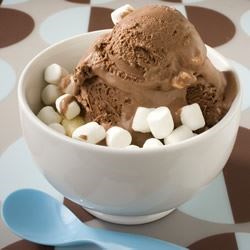 I'm definitely keeping this recipe for the summer, but will have to make it healthier for me to eat. Maybe I'll just plan on a chocolate marshmallow frozen yogurt since I can use homemade yogurt for it, so I"ll know ALL of the ingredients in it and feel good about eating it! Feel free to keep this in mind for the future months and come back to let me know your favorite creations and how yours turned out! I'm always looking for ideas!